USA Dance's 2022 Southeastern DanceSport Championships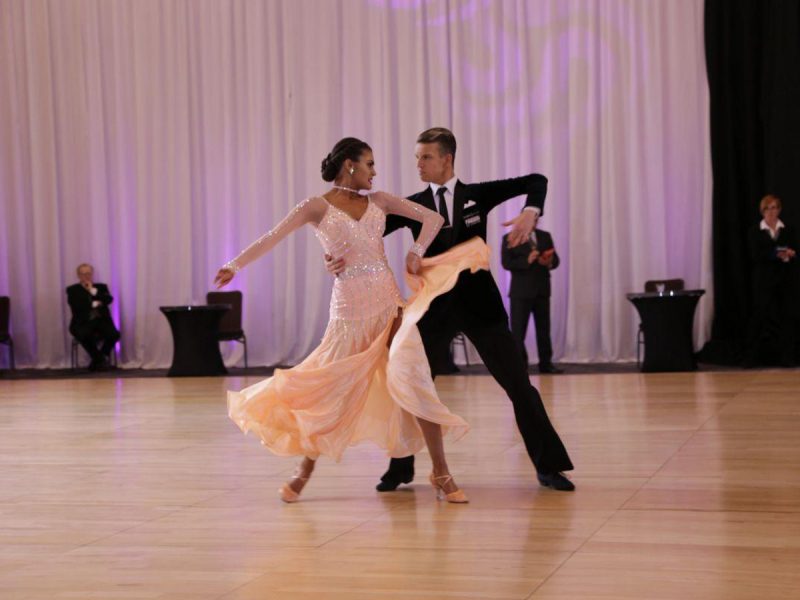 United States' Kristers Smits and Elizabeth Shlimovich won the first-ever WDSF World Smooth Championships, hosted at the 2019 Southeastern DanceSport Championships.
Photo courtesy of Wayne Crowder
So…Let's talk about February!  There's Valentine's Day, and you might have a birthday or anniversary that month. But…it is cold, it snows, it's dark, and the days are fleeting. February is the shortest month of the year and half the time, even the annoyed, little groundhog runs away. Did someone mention it's cold?
Unless of course…you head down "South". Do you need a good reason???
Registration is open for USA Dance's Southeastern DanceSport Championships, February 18-20 in the city best known for its historic charm — Atlanta, Georgia. Recognized and proven organizers Wayne and Marie Crowder and their Southeastern team are looking forward to extending their well-known Southern Hospitality, and invite dancers of all styles, ages, and levels to come enjoy this truly special competition in the perfect location.
This will be the fifth year of the Southeastern DanceSport Championships, explained Wayne. "The competition first started in Birmingham, Alabama, to help pave the way for the 2021 World Games." Due to the pandemic, this event was re-scheduled for July 7-17, 2022.
"With the help of members from the local chapters, we discovered this gem of a hotel in Atlanta that we couldn't pass up!" added Wayne. "As past competitors, we knew in an instant, this venue would be a hit with the athletes."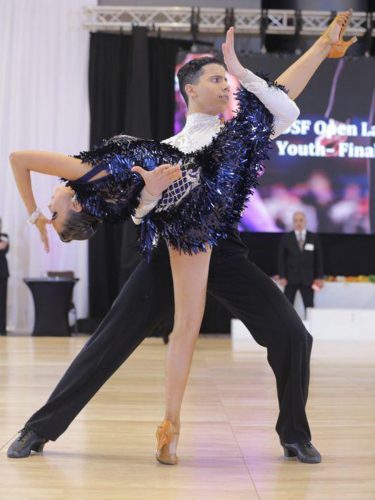 Canadian Latin Youth Couple Tamir Azbel and Anna Kozyar demonstrate a beautiful line during their 2019 WDSF competition.
Photo courtesy of Wayne Crowder
Inside the ballroom, dancers are promised extraordinary music, a great layout, large floor, additional lighting, and a video wall. Outside the ballroom, guests will experience a lovely venue in Georgia's capital and largest city, with temperatures ranging from 54-61 degrees Fahrenheit. The hotel is easily and inexpensively accessed from the Airport, by way of the MARTA transit system, and is conveniently located near many restaurants and the second largest shopping mall in the South! Plus, Atlanta is home to the World of Coca-Cola, CNN, the National Center for Civil and Human Rights, and the beautiful Atlanta Botanical Garden. There's a lot to see and do.
The last Southeastern DanceSport Championships, held in January 2020, hosted the first-ever World DanceSport Federation (WDSF) World Smooth Championships, which attracted 28 Smooth couples from all age categories to compete for the first WDSF Amateur World Smooth title. That title was won by USA Dance's Utah-based couple Kristers Smits and Elizabeth Shlimovich; https://www.youtube.com/watch?v=LsD_V4XawhY. The follow-on 2021 Southeastern was unfortunately cancelled due to the pandemic, but the Crowders are ready to open the doors and have the team to do it.
If you haven't been to this event, you are missing out. Not convinced??? Check out what others are saying!
"Even though the Southeastern Championships was a long way from home for us…it was well worth the trip," admitted Championship-level dancers Bill and Frances Manning from California. "It was well attended and well organized from start to finish by Wayne and Marie Crowder. We also enjoyed the great selection of music by DJ Rick."
"Putting together a team of volunteers, who are knowledgeable, friendly, and willing to go out of their way to assist you, is key to a winning formula," said Wayne. "We strive to make our events something special that creates the desire to come back again."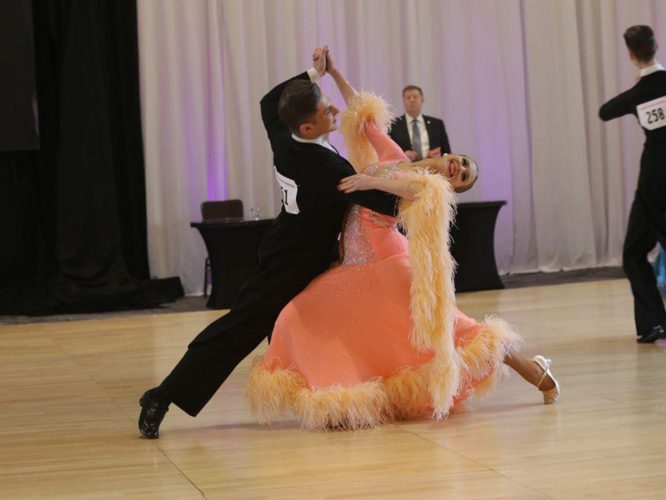 Youth Open Standard Couple Mitchell Hayutt and Sophia Levit dance a lovely Waltz.
Photo courtesy of Wayne Crowder
Still not convinced? Remember that the USA Dance Nationals are scheduled for April 1-3. Don't you need to get on the competition floor one more time to try out those moves? "Nothing compares to pre-competition preparation like a bonafide comp," Bill and Frances noted, "with lots of good, talented dancers of your level on the floor, in full competition costume, striving to dance their personal best."
What are you waiting for? Here's the website: https://dancesportgames.com/
The Southeastern Team is anxious to welcome USA Dance dancers to Atlanta. Come out of the cold and experience the warmth of the sun, Southern Hospitality, and a "truly special" event.
Like this page? Share it with your friends.