We're thrilled to announce that the National Collegiate DanceSport Championships (NCDC) are returning April 2-3, 2022 to Pittsburgh, Pennsylvania, and combining with the USA Dance National DanceSport Championships!
So, what does the USA Dance National Championships combining with the National Collegiate DanceSport Championships mean for non-collegiate dancers?
Most of you may not know much about the NCDC — we haven't been able to run our normal event since 2019. However, it's one of the more exciting events USA Dance holds each year – first and second rounds in every event, team matches, 36 teams, workshops taught by national and world finalists, and typical college enthusiasm.  This makes for a rockin' good time!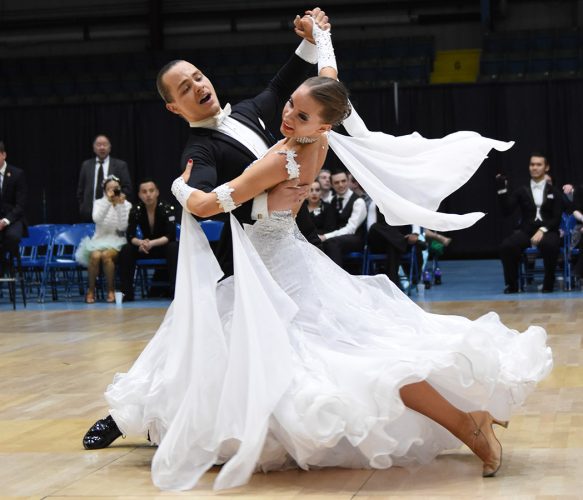 University of Chicago's Standard couples are always a crowd pleaser at NCDC.
Because of how we structured the combined event, college dancers will be competing in both Adult and Collegiate categories this year. This means that both Adult heats and College heats will equally benefit from their enthusiastic participation. So, for our fellow Adult competitors, you'll find you have quite a bit of company this year. We're planning for first and second rounds in most Adult events. Very few events can boast first and second rounds with true nationwide participation, and we're proud to be among them.
For our fellow Juniors and Seniors, the college students plan to bring their keen enthusiasm, energy, and good sportsmanship as spectators for your heats. They'll be there filling the stands for the Open competitors in the night show and cheering on their fellow Syllabus competitors as they show us all how awesome Bronze Quickstep can be at 8 a.m. You likely won't find a better atmosphere with high energy anywhere else on your competitive calendar.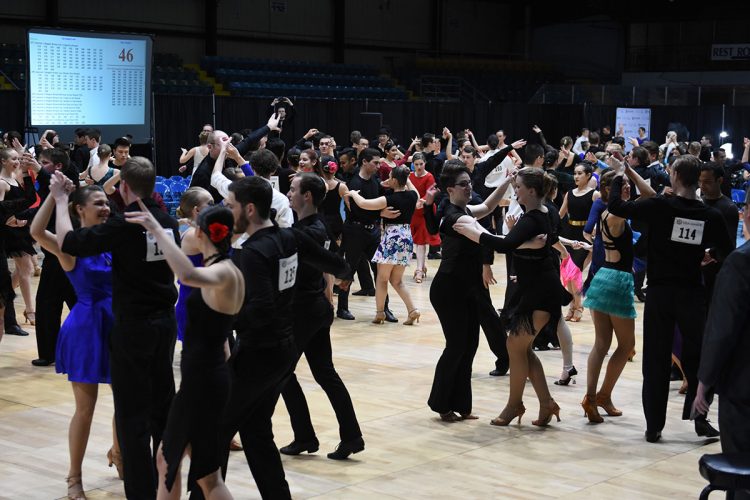 NCDC promises to bring another large crowd to the Pittsburgh area this year. See you all in April!
But that's not all that's coming over from NCDC. Perhaps most crucially, NCDC traditionally hosted seminars and workshop opportunities throughout the event. Typically, adjudicators can't teach or interact with competitors at a USA Dance-sanctioned competition for obvious fair-play reasons. So, this year, we're bringing in additional professionals who are not judging. They are there purely for the purpose of teaching and interacting with competitors. This means that while you aren't competing you can get workshop time or possibly even private lessons with national-level or international-level professionals. We can't make promises on who yet, but a little birdie says to be excited about some of your options.
We'll have more fun perks to tell you about later, but we hope this is a start to get you excited.  For now, you can check out the Nationals website at: https://www.usadancenationals.org OR the irreverent college version of the same details at https://www.usadancencdc.org. Registration opens in January. We're looking forward to seeing you all this April in Pittsburgh. It's gonna be a rockin' good time!
Like this page? Share it with your friends.