Along with the colors of autumn, the first weekend of October typically brings us the Carolina Fall Classic (CFC) National Qualifying Event (NQE), organized and run by Wayne and Marie Crowder at the Hilton University Plaza in Charlotte, North Carolina. Anyone who has attended CFC in years past knows it is a well-organized, well-attended event, attracting competitors from across United States, as far as Texas. This was the 12th annual occasion, after last year's cancelation due to the COVID pandemic. This year, several National Championship events were added for Youth, Juniors, and Pre-Teens, as the postponed 2021 National Championship events (usually held in the spring) were parceled out to several fall 2021 NQEs.
Attendance at CFC 2021 was perhaps half of pre-pandemic levels, according to Wayne Crowder, who admitted that it was not surprising considering the new wave of illness from the recent Delta variant. Competitor registration site O2CM results showed scores for approximately 250 entrants over three days. For those who did attend, the music was fabulous, the ballroom was festive, and the level of dancing was very high.
USA Dance's 2021 fall NQEs have been a great opportunity for USA DanceSport athletes to see friends and competitors in person instead of being limited to electronic forums, so routine for the last 18-20 months. Broad smiles and extra-long hugs were plentiful.
There were USA Dance National events for Pre-Teen I (five events dancing as couples, seven events dancing as solos), Pre-Teen II (six events as couples, eight events as solos), Junior I (twelve events as couples, five events as solos), Junior II (five events as couples, six events as solos), and Youth (four events as couples, two events as solos). 
Some of these events had only one-or-two entries, while others had three-to-eight entrants. The largest events were the Pre-Teen II heats, where the Gold Latin event had a semi-final.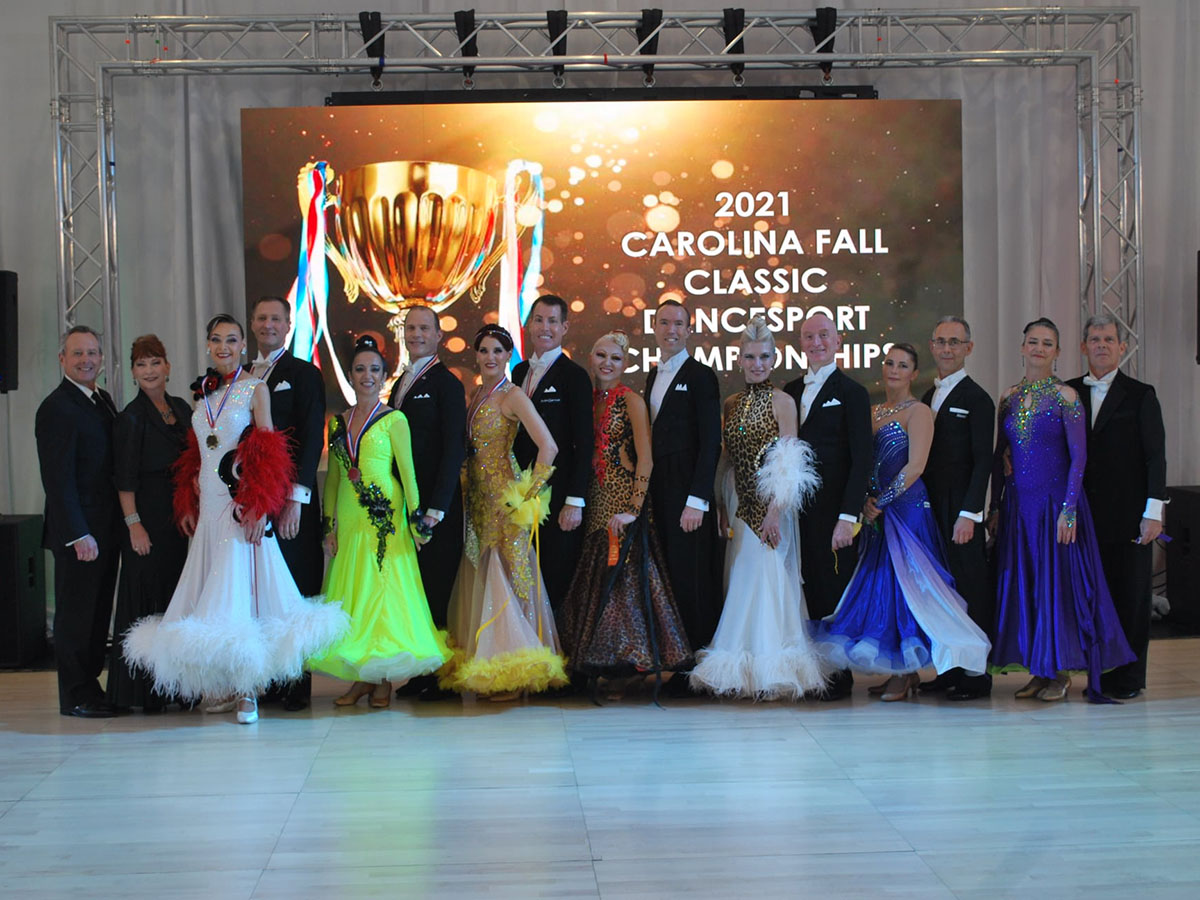 The Senior II Standard Championship was a highly competitive event with great dancing.
Photo by Michelle Crowder
The age categories with the most entrants per heat were Senior III and Senior IV. These events typically had five-to-seven couples, and three Senior III events had semi-finals. There were nearly as many Pro-Am events as Amateur events. These are gaining in popularity, but are still limited in entries, typically one-to-three competitors per heat.
Although it wasn't the largest CFC, it certainly was a dance-packed weekend, where National Champions were crowned, partnerships were solidified, and energy was high!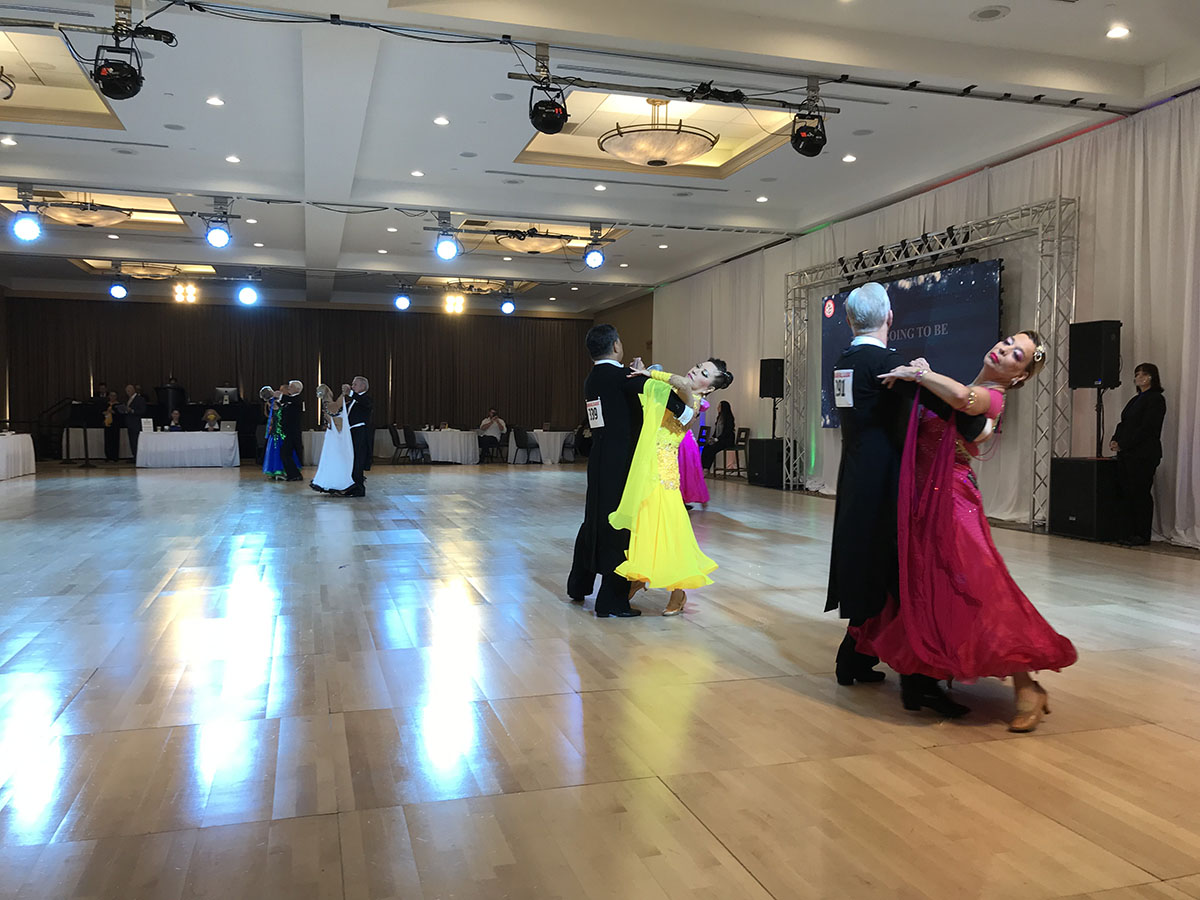 Senior IV Gold Standard Event
Pro-Am Brings Out the Team Spirit at CFC
Noriko Donahoe, Kay Parker, Professional Vladyslav Dolya, Davis Parker, Professional Tara McGough, Robert Jacobsen, Cindy Gast, and Author Clifford Arnold made up the Charlottesville Ballroom team that won the CFC Top Studio Award.
Photo by Veronika Boryseiko
I was a Senior III competitor, but two years ago when I moved into Senior IV, I lost my amateur partner to the competing Pro-Am circuit. I returned to the Carolina Fall Classic, this year, because it is driving distance, and I wanted to see dance friends on the floor competing. I entered as an amateur, competing in Pro-Am events with my original dance teacher, Tara McGough, who I have worked with for nearly 12 years. 
Pro-Am events, are relatively new to USA Dance, but have been supported at several USA Dance competitions for a couple of years. When competitors hear "Pro-Am", one immediate reaction is "oh-boy, we get to watch professional dancers", another is "that is too expensive for me". These events are priced differently than the amateur couple events. The price tag is likely to be higher than for amateur couples, but the USA Dance version is quite economical compared to some other circuits. At CFC, registration fees for a single-dance event were $25; a multi-dance event was $40 for four dances. This is approximately half the cost seen on other circuits. The amateur also has a bill from the professional partner for expenses and for services. My bill for the entire weekend at CFC was about 1/3 of the bill for a similar set of heats at a Pro-Am competition on a competing circuit. 
The Pro-Am heats on the USA Dance circuit currently have only one-to-three entrants per event. Although this does not seem like a lot, there are enough total entries to significantly impact the competition's revenue for the weekend and could be important for keeping these competitions viable in the future for all dancers. In addition, these entries can be quite helpful and useful for amateurs who are without an amateur partner, for amateurs trying out the idea of competing, and for professionals who are getting their students used to the competition floor. The environment at USA Dance events is very supportive and enthusiastic. It is a good place for dancers to have a good experience regardless of the scoring result, especially early in their competitive efforts. 
Here are my thoughts on the differences between Pro-Am and Amateur couple experiences since I have now done both. In Pro-Am, the amateur can focus more on their own responsibilities. The professional is typically more seasoned in competing and provides a sure and steady "rudder" for the amateur. This can apply to pre-dancing nerves, general presence in the ballroom, floor craft, and unexpected events such as mishaps on or off the dance floor. For competitors repeating dances, the professional dancer provides a consistent performance. The amateurs can compare repeat performances more accurately, based on differences in their own dance efforts. On the other hand, the professional dancer may have other dance partners requiring attention, and you must be ready to plug into their event schedule which may eliminate practice or warm-up activities together. I suggest that you should plan this out as a "team" for the best outcome.
Our dance studio — Charlottesville Ballroom Studio — in Charlottesville, Virginia came with two professional instructors, five amateur Pro-Am competitors, an amateur couple, and three spouses to help cheer us on, plus colorful posters. This culminated in a top-studio title and a nice big trophy awarded on Saturday night, not to mention a wonderful team-building experience for us all.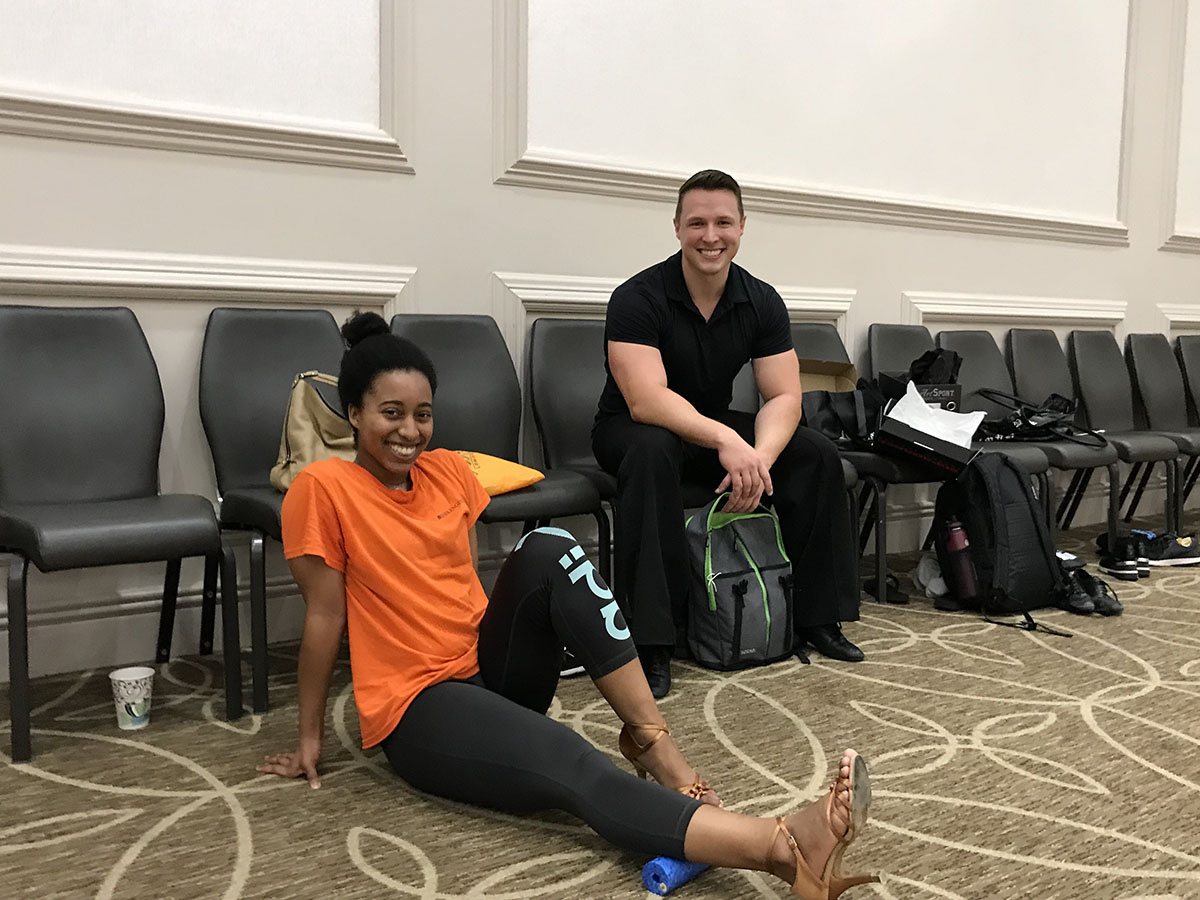 Rachael Osborne and Kirk Sigmon
At CFC, I was mesmerized by an adult couple that I did not recognize, practicing samba in warm-up clothes on the practice floor. They looked college-aged, and I wondered what might have brought them to a USA Dance competition. 
Rachael Osborne and Kirk Sigmon met in northern Virginia through a mutual dance friend. They each have blossoming professional careers in technology-related fields, had danced competitively in college (Rachael at University of Virginia and Kirk at Cornell University) and were interested in competing part-time in Latin for fun.
They had not been dancing together long, and Carolina Fall Classic was their first competition together. They won Adult Latin Novice and took 2nd in Adult Latin Pre-Champ. I asked about their preparation, competition experience at CFC, and plans for the future.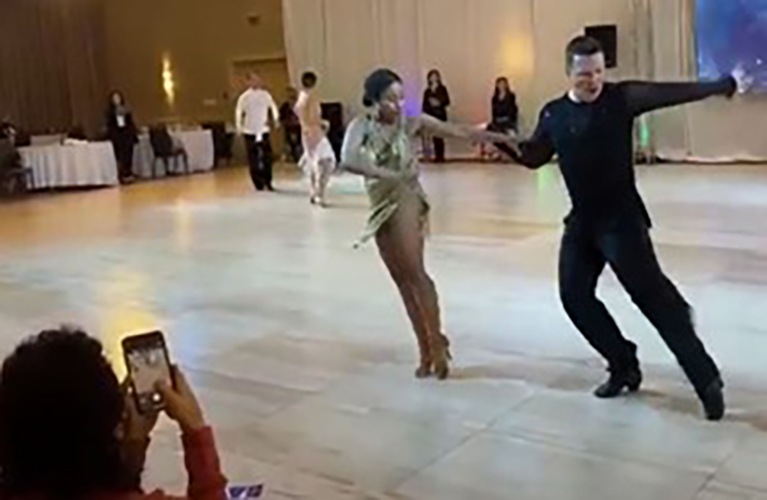 This couple has a private lesson together every other week, a private lesson (alone) once a month, and attend group lessons as much as twice a week. Their goal is to compete in a variety of events with an aim of improving enough to compete at higher levels and achieving call-backs at large competitions. Competitive dancing is a hobby for them, with an emphasis on having fun and fitting dancing into their busy schedules.
I asked them how USA Dance can encourage more participation in our competitions for dancers like themselves. "The USA Dance event has some nice advantages. The event is much more smoothly run than our college events were. There is much more space on the floor for dancing and floor craft…The biggest challenge for our dance friends is finding a dance partner. Events that provide the opportunity to find a competition partner would be great. We were just lucky."  
How the Heck Do Judges Do It?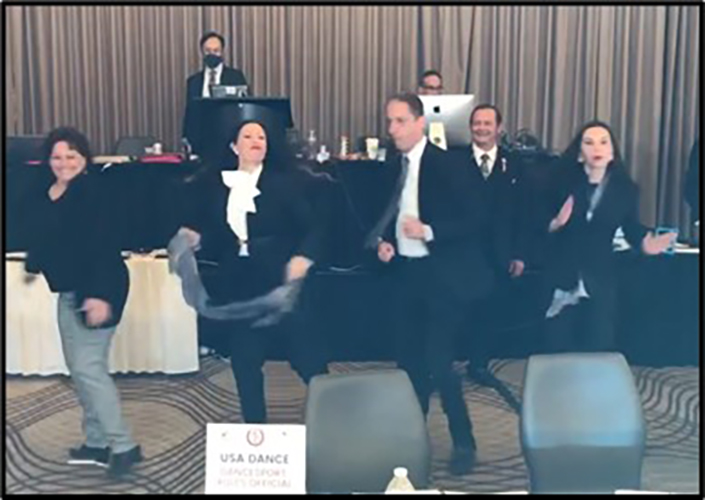 Dancing Officials (L to R): Patti Panebianco, Inna Brayer, Ronen Zinshtein, Martin Smith, and Katrina Volgina entertained the crowd
The second evening of the Carolina Fall Classic included an entertaining impromptu line dance by four (or five?) officials to Sister Sledge's "We are Family".
We captured a 30-second video of it which can be viewed by logging into Facebook. They looked like they were having a great time. It was fun to see the officials dancing, laughing, and entertaining the crowd.   
On a spontaneous whim, four American Dancer Magazine writers tried scoring this performance as a solo proficiency event to see what being a judge is like. This turned out to be an interesting exercise, and don't forget, the participants were not dancing for scores. One writer said she/he had to watch the video three times to score the four dancers, and then watched it again when instructed there was a fifth entrant, Martin Smith, in the background.
Our results further illustrate the challenge. Only one of the magazine's staff (amateur "judges") agreed with the final ranking of the five dancers. Try this exercise yourself to appreciate the challenge of judges scoring as many as thirteen couples in 90 seconds.
 
 

Judge1

Judge2

Judge3

Judge4

Place

Notes

Patti

 

2

3

2

1

2

High Energy

Inna

 

1

2

1

2

1

Good Improvisation

Ronen

 

3

4

4

3

4

 

 

Katrina

 

4

1

3

4

3

Chewing gum out of rhythm

 

Martin

5

5

5

5

5

Partial Participation

 
Like this page? Share it with your friends.