WDSF Open Adult Standard World Championship
Brno, Czech Republic, September 18, 2021
Alexandru Munteanu & Anna Sheedy (MA)
Daniel & Anastasiya Rubashevsky (CA)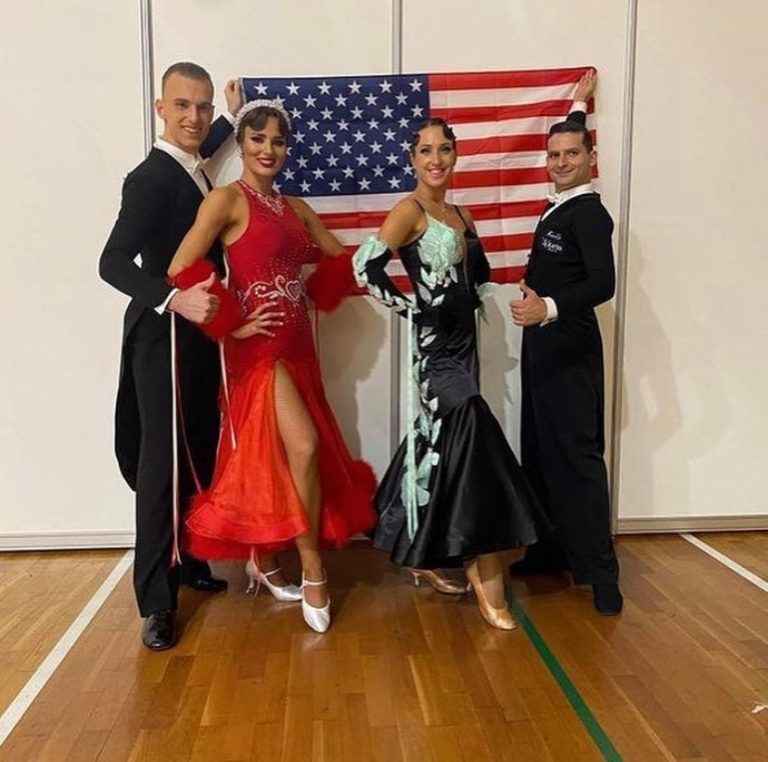 Alexandru Munteanu & Anna Sheedy with Anastasiya & Daniel Rubashevsky
Alexandru Munteanu & Anna Sheedy
How did you prepare for this World Championship?
Alexandru & Anna: This year for the World Championship, we couldn't travel internationally to attend training camps, so we prepared at our studio in Natick (Massachusetts), with our coach Ronen Zinshtein.
What emotions were going through your minds as the date was getting closer and closer?
Alexandru & Anna: As the World Championship was getting closer, we felt super excited and nervous at the same time. We hadn't danced a competition in almost two years and were very eager to get on the competition floor. At the same time, we felt like we had a big responsibility to represent our country at the best of our ability. So it was all in all exciting.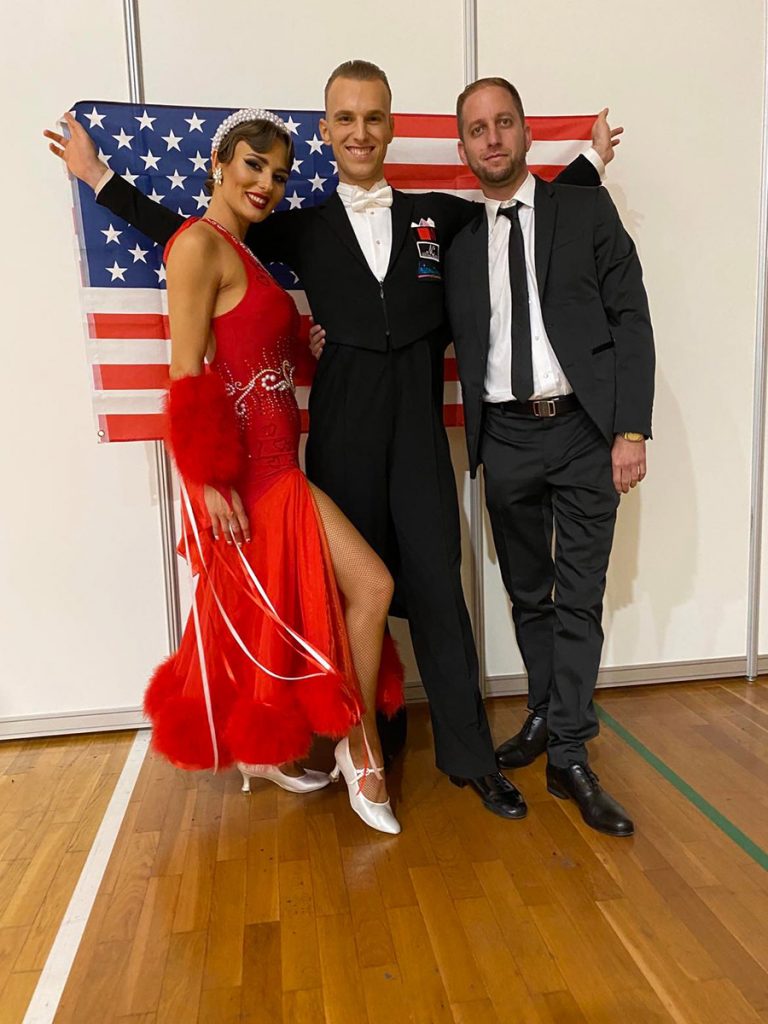 Anna Sheedy, Alexandru Munteanu, and Coach Ronen Zinshtein
What was the first thing you  did when you arrived in Brno?
Alexandru & Anna: The first thing we did when we arrived in Brno was to have a nice meal at the restaurant and take a nap.
How did you feel you performed?
Alexandru & Anna: We left all of our energy and feelings on the competition dance floor. After such a long break the first round was hard, but the second one was much better. We did our very best!
Were you satisfied with the results?
Alexandru & Anna: Yes, we were satisfied with our results. Because of the virus and the travel restrictions, most other couples that beat us were able to prepare better for the World Championship. So we know that we had done all we could to prepare and we did our best at the competition. Next year, we will come in stronger and we will do even better.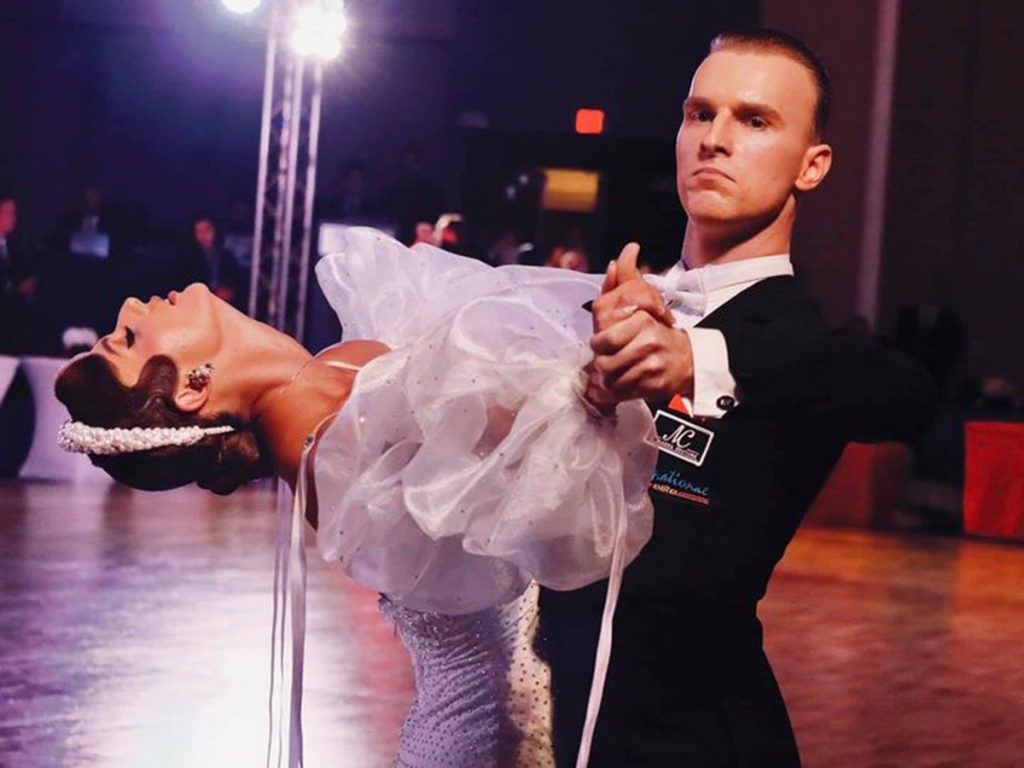 What's the goal for next year?
Alexandru & Anna: For the next year, our goal is to do much better than this year. And the same goes for the year after.
Daniel & Anastasiya Rubashevsky
What were your thoughts going into the World Championship? Did you have any expectations or goals? Making it to the quarter-final must have been an amazing feeling. Can you describe how that felt?
Daniel: We really didn't have any expectations, but we really hoped to make it to the top 48, which we did! It was a truly amazing feeling. After we danced, seeing our number show up on the monitor was exhilarating. The dancing felt great, just like in the studio, and it was probably the best floor we'd ever danced on! The perfect size for our routines, and the perfect balance of stick to slip as well.
Is there anything about the competition that stood out or is a lingering impression?
Anastasiya: Definitely the floor. As mentioned before, the floor was amazing. We'll be remembering the floor for a long time.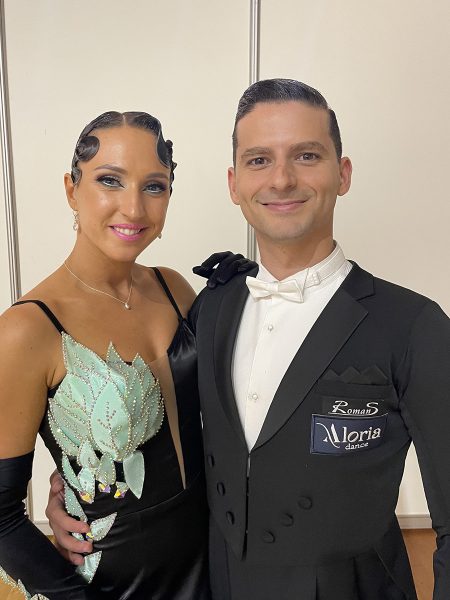 Were there any particular challenges getting to or from this World Championship?
Anastasiya: Getting to Brno was interesting. We had to fly into Vienna and then take a bus to the city. It was about a 2-2.5 hour drive, but the view was nice and the seats reclined back, so we could sleep.
Was there anything unexpected or unusual either on or off the floor that you would like to tell us about?
Daniel: Yes, actually there was something a little weird. It was very hard to find any "Standard World Championship" or similar signage/banners to take pictures in front of. Our numbers didn't have it, tickets didn't have it, buses, hotels, even a sign on the door didn't have it. It's slightly upsetting, as it almost feels like we don't have any proof we were at the World Championships!
How did you prepare for this important event? Was it any different than how you normally prepare for a competition? 
Anastasiya: We can't really say that we prepared differently for this than any other event, because we're 10-Dancers, so we just generally train both Latin and Standard. We also had Nationals like two weeks after we'd come back, so we HAD to train everything anyways. We went to some international camps which really helped, but we still tried to view this as any other competition.
What are your goals following this World Championship?
Anastasiya & Daniel: After this championship, we're prepping for the next one – 10-Dance in Poland!
How did it feel being a part of the official USA World Team?
Daniel: As always, it's a huge honor to represent this country at the World Championships.
Is there any advice you would give to future World Championship competitors?
Daniel: Listen to your body. The words "World Championship" definitely have weight to them. But filling every moment with practice, and "doing more" can be dangerous too. It's during those times when serious injuries can happen (and an injury during training for Worlds probably will have some extra stress added to it as well). It's important to listen to what your body needs. Take the time to rest or heal, eat that extra food if you want it, and be sure to exhale your stress at the end of the day.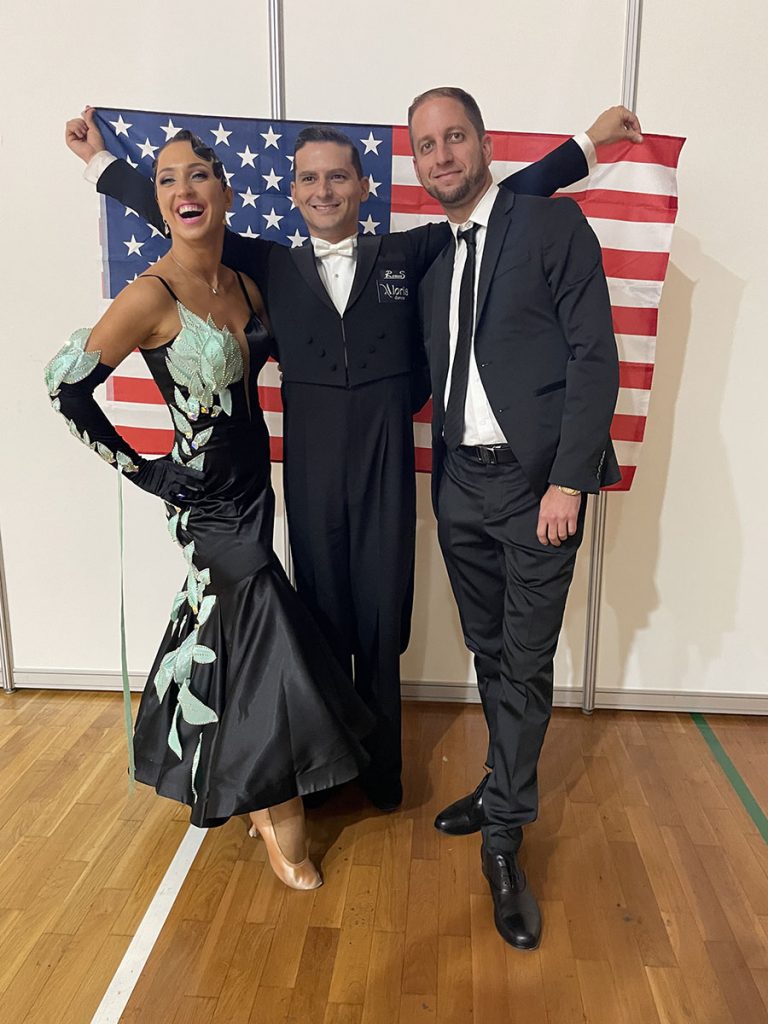 Anastasiya, Daniel, and Coach Ronen Zinshtein
Like this page? Share it with your friends.