Sunny skies, warm weather, and ballroom by the beach all add up to sound like an amazing vacation, don't they? For Madeleine "Maddy" Mravkarov and me, the USA Dance Nationals — hosted by the American DanceSport Festival (ADSF), October 8-10, 2021 – amounted to three jam-packed days filled with emotions, reconnecting with friends, and non-stop dancing. After dancing together for less than a year and a half, Maddy and I were able to earn spots to represent the United States in the Under 21 (U21) Latin, Standard, and 10 Dance World Championships, and even qualified for the 2022 World Games! Needless-to-say, our first Nationals together was unlike any other.
Full transparency, I was a little nervous before flying out from Atlanta. Not only was our partnership fairly new, but it was also my first National Championship representing the Volga Dance Academy under our coach, Katrina Volgina. To feel my best, I decided to wear a suit and tie to the airport!
Once we arrived in Fort Lauderdale, Florida, we fell in love with the beautiful venue – The Westin Fort Lauderdale Beach Resort — from the pool, beach, and restaurant to the Lavazza (coffee) bar! We checked in and quickly grabbed a bite to eat at Lona Cocina Tequileria, the delicious Mexican restaurant attached to the hotel. The food was superb, and it was so convenient! As the hours went by, I saw more and more of my friends from across the country, as well as two of my students from Huntsville, Alabama — Thomas and Becky Hamrick! All were enjoying themselves and anxious to dance.
Igor Golovach and Michelle-Angella Blank
National Adult International Latin Bronze Medalists
Photo courtesy of Guy Platt
This year, the ADSF organizers, Lisa Spencer and Ronen Zinshtein, not only hosted their National Qualifying Event, but they also took on the challenge of USA Dance Nationals for the Adult, U21, and Professional categories, plus qualifications for the 2022 World Games. It was quite a production.
Saturday morning, I woke up to my little dog, Roma (a chihuahua and Pomeranian mix), licking my face to give me my 'Good Morning Kiss'. I headed downstairs to the Lavazza bar to have my most important meal of the day! Throughout the morning and afternoon, I spent my time getting ready mentally and physically with my partner, Maddy. Then, it was finally show time, and Maddy and I were on deck about to go on for the U21 Latin. We took in the beautifully decorated ballroom with huge ADSF letters, exciting music, and theatrical lighting towers, and concentrated on everything our coaches told us throughout the last few months.
As we walked onto the floor, we realized it was all or nothing. Now was the moment! As the night progressed, we danced U21 Latin and Standard, as well as Adult ShowDance. Then, the award ceremony. When our names were called, and we understood that we had won the U21 Latin, we were thrilled! Years of hard work, sacrifice, commitment, and passion had finally paid off! We were the United States National Champions!!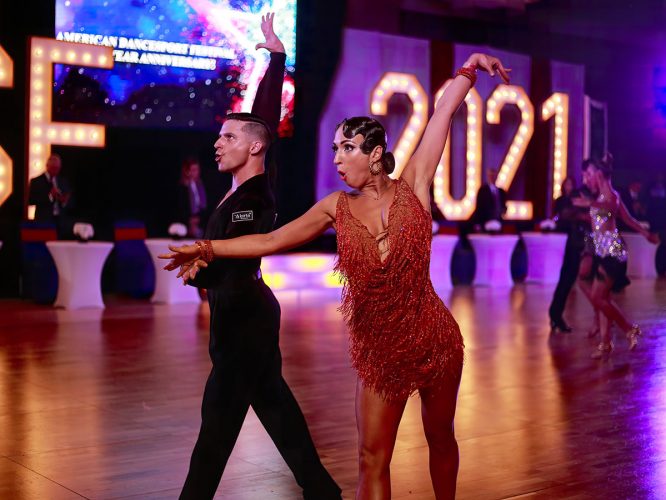 Daniel and Anastasiya Rubashevsky
National 10 Dance Champions, World Games Qualifiers (Standard and Latin)
Photo courtesy of Guy Platt
Sunday morning was relaxed. We had breakfast and began to prepare the same way we had the previous day. In the morning session, I competed in the Teacher/Students category with my students, Hristel Gospodinova and Daniele Naujokas, and my mother Fiorenza Todaro. Each of them did a phenomenal job and became American champions in their categories! Later in the afternoon, Maddy and I got ready to compete in the U21 10-Dance category. We prepared the same way we did the night before. When the time came to compete, we began with the Samba and progressed our way to the Quickstep. We felt super energetic and ecstatic! Even though we danced uncontested, we pushed even more! We wanted to finish our round strong.
The entire competition was a lot of fun and all the dancers and spectators had a great time. The highlight of the competition for me was when DJ Todd Wakefield played my favorite Pitbull song, "Fireball", during a break in between rounds. I began dancing in the on-deck area and others joined. Then I thought to myself, "Well, there is no one on the dance floor and people are dancing and having fun…. Let's go on the dance floor!" I moved our little formation onto the dance floor and we had the time of our lives! A lot of people were recording and enjoying it. I felt like I was leading one of my Zumba classes!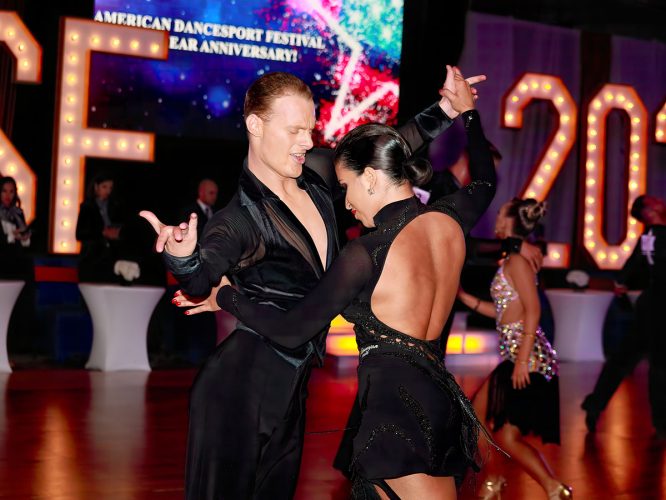 Mathew Kheyfets & Sima Sadykhov
Adult International Latin Showdance Champions
Photo courtesy of Guy Platt
The best part was we did it again the following night, except this time it was even bigger! These are the moments that I live for! It's great to see dancers, no matter their status or age, having fun on the dance floor with not a single worry in their head!
I know the ADSF organizers will continue to do an amazing job as they host this event in coming years, and I can't wait to attend!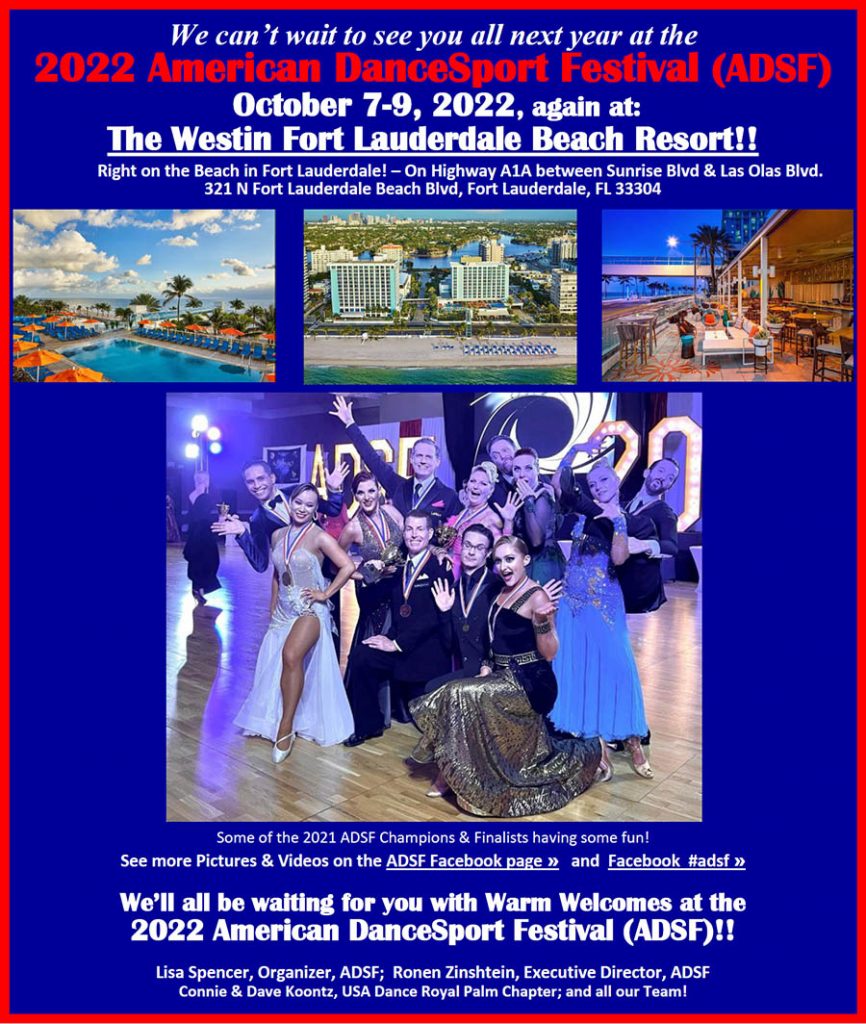 National Champions Crowned at ADSF
Adult International Standard
Alexandru Munteanu & Anna Sheedy
Adult International Latin
Artsiom Pazniakou & Daria Goryaynova
Adult American Smooth
George Cometa & Amelia Wills
Adult American Smooth Showdance
George Cometa & Amelia Wills
Adult International Latin Showdance
Mathew Kheyfets & Sima Sadykhov
Adult International Standard Showdance
Alexandru Munteanu & Anna Sheedy
Adult 10-Dance
Daniel Rubashevsky & Anastasiya Rubashevsky
Under 21 International Standard
Daniel Trukhin & Valerie Heifez
Under 21 International Latin
Alessandro Scalora & Madeleine Mravkarov
Under 21 10-Dance
Alessandro Scalora & Madeleine Mravkarov
Professional Nationals Open Championship International Standard
Egor Bezukladnikov & Irene Lee
Professional Nationals Open Championship American Smooth
Jang Don & Adele Don
Professional Nationals Open Championship American Smooth Showdance
Jang Don & Adele Don
Professional Nationals Open Championship American Rhythm
Roman Zotov & Anna Zotova
Professional Nationals Open Championship American Rhythm Showdance
Jang Don & Adele Don
Like this page? Share it with your friends.